We Are changing over to the NBN best way to contact us currently is via Email.
richard@thebassshop.com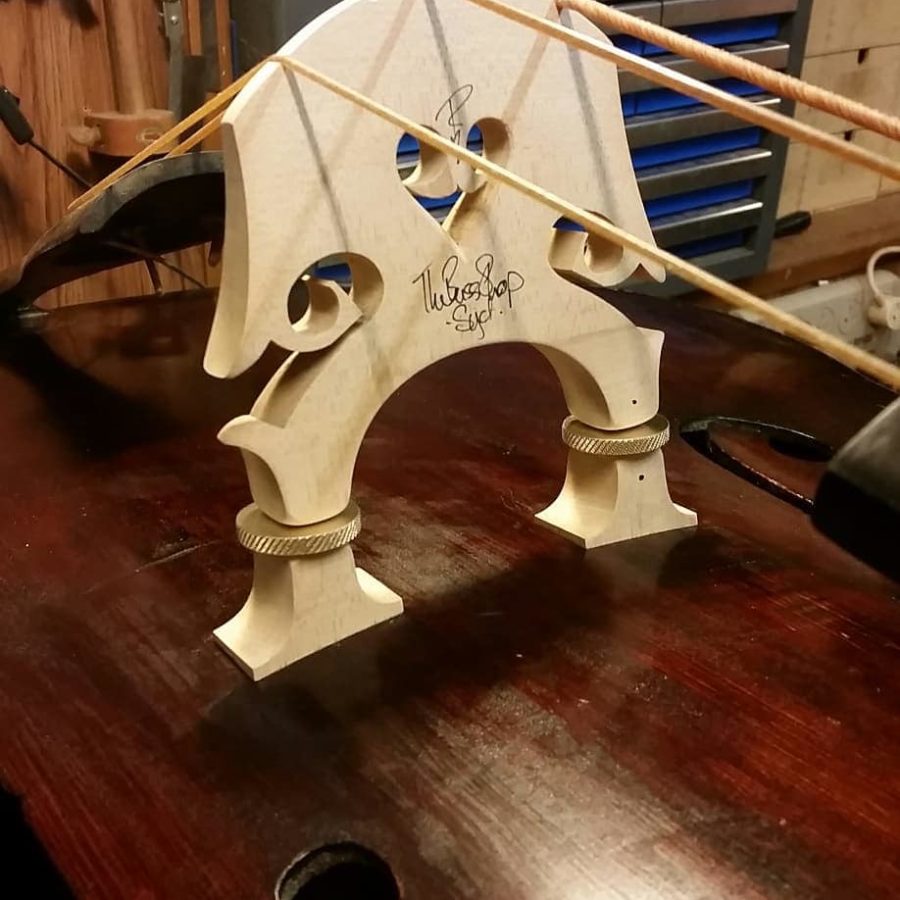 Setups and repairs
The Bass Shop has been providing the bass community with quality set-ups and restorations since the early 1980s. No matter if you are a beginner or a professional musician you can have confidence in our quality service. At the shop we have a great range of parts and accessories for sale, as well as new and vintage instruments.
We provide professional care for your instrument from the smallest repair through to the most extensive restoration. Its all about the tone, and helping each player reach that with they're instrument.
Working closely with our customers, The Bass Shop strives to achieve "maximum result for minimum effort" this means the bass should speak naturally with out requiring force.
The Bass Shop has also have been an important supporter of the music education system; supplying schools and individual teachers with appropriate instruments and setup work to assist their students develop into confident players for the future.
Some of our services
• Bow Restoration, Repair and Rehair. • Double Bass restorations and repairs. • Electric Bass setups. • Cello restorations and repairs. • Custom made instruments. • Instrument valuations.  
Restorations
The Shop's main attributes is the restoration of a damaged or unloved bass back to its original condition. this quite often can be quite an intensive job and requires special skills to achieve the correct results. While we try and maintain the makers original intent, often the damage areas need to be re built and this can involve new parts to be made. Our workshop is fully equipped to handle all aspects of this type of work. We try to replace all wood with similar grain types and as close to the age as possible
Some types of Restorations work;
Scroll rebuilds and neck grafts.
New bass bars.
Edge doubling and fitting.
Extensive Belly repairs.
Block replacements.
Strut repairs and replacements.
Restoration work requires us to thoroughly go over the instrument this can take up to an hour we will then give you and accurate quote for the work including any parts, strings, ect (the quotation is $55) If you decide to go ahead with the repair we require a 30% upfront deposit and payment with in 7 days of completion. Please be aware in some rare cases extra work may be needed this may incur additional costs but you will be informed before I proceed.
Restoration work can take some time depending on the level of work required. We try to complete the work to a schedule but it can not be rushed. if you require a bass for a gig we can provide you with one if yours is not complete
C Extensions
Crafted entirely by hand from scratch each extension is made and set for the bass it partners with. Ergonomic thumb cut allows for easy access to the notes as well as the gates themselves. We use only the best parts to make each one from the brass seats nuts and screws, to the solid wood gates of ebony or iron wood. The gates are padded to protect the string from wear and damage and set to pitch via a strobe tuner for accuracy.
Types
Fully Gated C Extension
Fully Gated B Extension
E and D gate Extension
Single E Gate Extension
For a quote Contact
Sales
With access to a large inventory of stock through suppliers in Australia and overseas, whether in store or online you can rely that we can get the things you need to keep your instrument in top playing condition. Part of our mission is to not only sell quality parts but to advise you on the best product for the music you make.
Looking for something in particular drop us an email to see if we can get it in for you.
Some of our products
Amps
pickups
strings
rosins
parts and accessories
Shop online now
Custom mods and inlay
The Bass Shop is Australia's only full bass shop, as well as repairing and restoring classic uprights we also custom mod and setup electric basses from the most complex 4 band pre-amp upgrade to inlay work and everything in between. Every job is treated as if it were one of our high end instruments with meticulous attention to detail.
Services include
High level inlay work
Re-frets
fret dressing and setup
Wiring upgrades and modifications
hardware upgrades
body modifications
parts upgrades